3
min read
Closing Sales Using SMS Campaigns and Automated SMS
With consumers becoming increasingly cautious with their finances due to inflation, student loans, and a challenging job market leaving many unemployed, sales professionals need to be especially strategic if they want to achieve and maintain high sales quotas. Salespeople in markets with large ticket items like phone or car reselling, need to approach consumers with a plan on how they can save them money or at least give them the best investment for their money. However, it can be difficult to provide that kind of attention to each customer, especially when that customer is still only a lead.
Fortunately, Beetexting's suite of features, including Broadcast Campaigns tool, and keyword-based workflows offers a solution. These tools enable resellers to craft thoughtful messages, efficiently categorize customers, and swiftly communicate offers, ensuring they remain at the forefront of the consumer's mind. 
Using SMS Campaigns to Reach Customers Quickly
Broadcast Campaigns, Beetexting's take on bulk SMS campaigns that text marketers famously made popular, are a game-changer for sales professionals. They allow for rapid communication with a broad audience while retaining the ability to segment customers based on tags or lists. This efficiency is a boon for busy salespeople, enabling them to initiate conversations and gauge purchase intent swiftly. Metrics such as open rates, click rates, and reply rates serve as invaluable tools in identifying serious buyers. And with SMS boasting superior open and reply rates compared to email, as much as 90% higher, the potential for conversions is immense.  
Consider a phone store reseller launching the latest iPhone or Galaxy Smartphone. Using Broadcast Campaigns, they can quickly inform their customer base, providing details and incentives to customers who choose to prepurchase a deal through the salesperson. In that same scenario, a phone reseller could set up an "Everything must go campaign" to previous customers who showed interest in last year's models.  
Similarly, a car dealership can use SMS Campaigns to notify potential buyers of a limited-time discount, driving footfall and sales. Timed just right, the savvy car dealership could have customers scheduled to come in long before other salespeople are just starting to plan their January sales specials. The bottom line? Customers are eager to shop; they just need to be made aware of the value on offer.  
Keyword Automations to Identify Serious Customers
Beetexting's Keyword Automations are akin to having a sixth sense in sales. By identifying specific keywords in customer messages, salespeople can gauge purchase intent and tailor their responses accordingly. For instance, if a customer mentions the words "deal", "discount", or even a competitor brand in their replies to your SMS Campaigns, automated responses can be triggered to provide them with relevant information or offers.  
Imagine a customer mentioning a competitor's product. An automation can instantly provide them with a comparison, highlighting the advantages of your product. Or, if a customer is seeking a discount, an automation can inform them of ongoing promotions or loyalty benefits. Customers are on the lookout for value, and with the right keyword automations, you can ensure they find it with you.  

Beetexting's suite of features offers sales professionals a robust toolkit to navigate the challenges of today's selling market. By leveraging the power of SMS, understanding consumer motivations, and offering timely incentives, salespeople can bridge the gap and drive conversions.   
Ready to start using professional texting in your sales organization?



Download: Business Texting Compliance Field Guide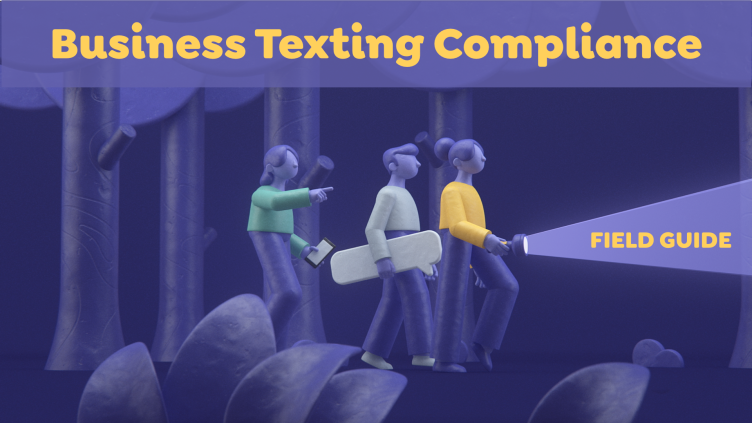 Understand TCR and how it works
What opt in/opt out automations you need to avoid fines.
Frequently used terms and what they mean