5
min read
How to Conquer Long Sales Cycles with SMS CRM and Marketing Automations
Businesses with high-value products/services that are expensive, complicated, and/or disruptive to implement experience long sales cycles.
Solutions such as changing financial advisers, banks, consulting firms, or insurance agencies are not necessarily expensive, but very disruptive. And solutions like upgrading equipment, changing CRM software, and replacing POS systems are expensive AND disruptive.
Buyers are being prudent to ask a lot of questions and do their research in order to make an informed decision. While it may be frustrating, buyers are assuring your offering is right for their business - the risk feels high if your solution isn't a good fit.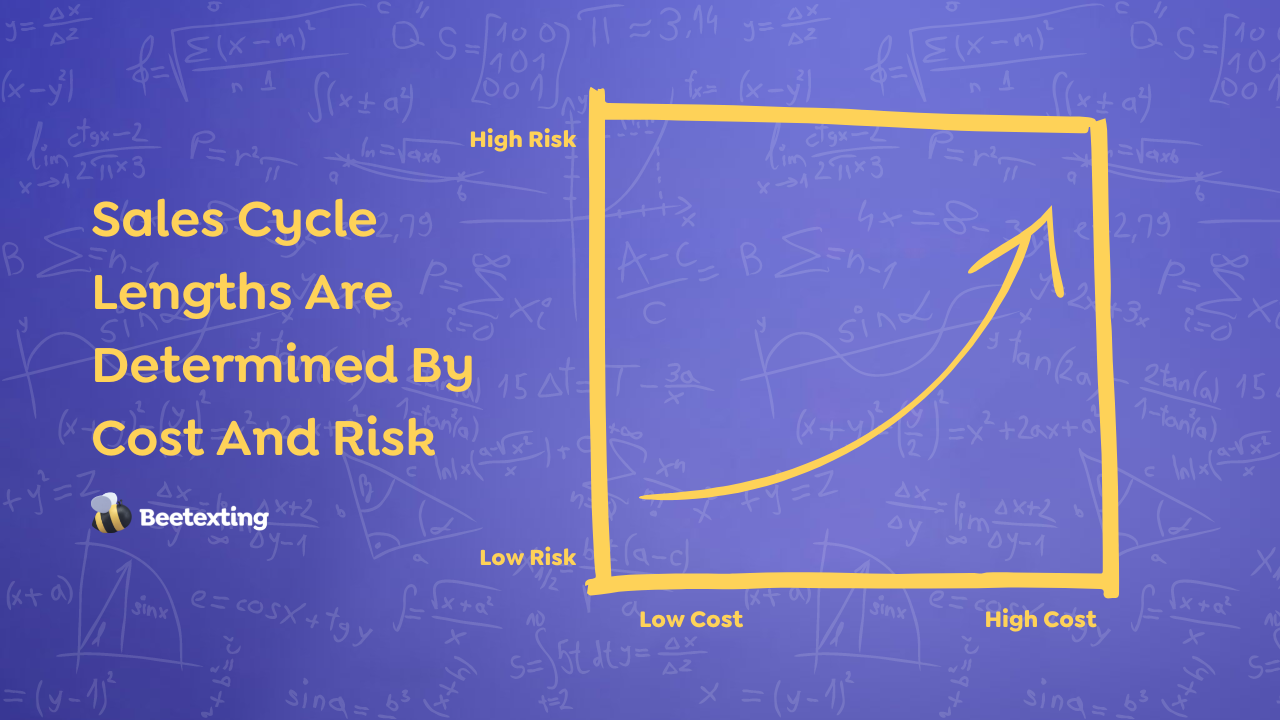 Text Message Marketing : Win More Deals
Your job is to provide valuable information throughout every stage of the buyer's journey so they feel confident choosing your service/product. In order to produce great results you must stay ahead of your competition, and that means utilizing the most effective tools available.
In today's sales and marketing landscape, SMS text message marketing is highly effective and underused - only 61% of businesses are using SMS in their marketing. With 95% of texts being read, it's much more effective than email and phone calls. Consumers are 4.5x more likely to reply to an SMS marketing message than a marketing email and 85% of consumers prefer receiving an SMS text from a business over emails and phone calls.
Before starting text message marketing automations, you need a plan for organizing leads in your CRM that's connected to your text marketing.
You can connect your SMS marketing platform with your existing CRM or Beetexting has CRM functionality built-in.
Beetexting has several CRM integrations and more on the way, making it easy to integrate with your current CRM. If your CRM doesn't provide great functionality for integrations or you don't yet have a CRM, Beetexting works really effectively as a stand-alone CRM with features like customer profiles, tags, saved conversations, notes, etc. you'll have everything you need to implement an effective sales and marketing funnel.
Whatever you choose, it's important that your SMS marketing software and your CRM are connected.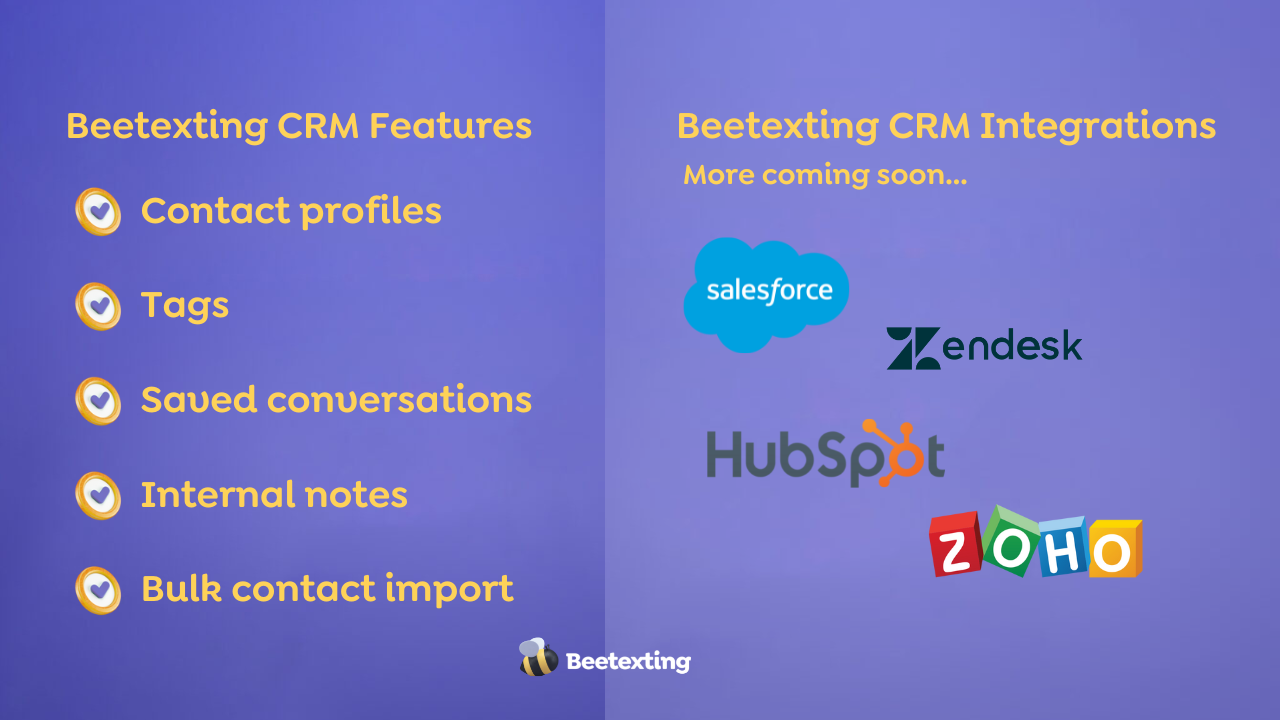 The Power Couple: SMS CRM and Automations
Your CRM and automations work together to create an effective sales engine, running behind the scenes warming your leads, and pulling them through the sales funnel to a decision.
Before you begin your SMS marketing, you need a plan for organizing your contacts. Tags are the organizational powerhouse behind your SMS CRM - allowing you to easily identify leads for your automations.
SMS CRM Feature: Using Tags
Every potential lead that opts in for SMS  – both inbound and outbound, enters your CRM. Each lead should be tagged in a way that's most useful to your marketing engine so you can identify leads and send relevant information that buyers are interested in. Some ideas:
Geographic location
Product/service
Size
Industry
Revenue
Lead status (cold, warm, hot)
You can also tag by what medium brought them to you (cold call, website form, webinar, networking, etc.). The better you tag, the more useful those tags will be to you.
SMS Marketing Automations for Long Sales Cycles
Send useful content to your leads that are congruent to their buying stage – awareness, consideration, and decision-making.
Automations are triggered when a specific, predetermined action is taken. One of those actions includes when certain tags are added to a contact's profile. You can have as many or as few automations running simultaneously - it's your choice how specific you want to target your leads. Well-crafted general automations for each stage of the buying process will produce desired results.
Scenario:
Let's say you have 10 pieces of content, you will use those 10 pieces of content to create an automation sending those 10 pieces of content to your leads over a course of time that you choose - maybe you schedule the automation to send 1 piece of content each week for 10 weeks and when the automation is complete, it sends a message to your sales professional to touch base if the lead hasn't taken any action. Set it up once, and let it run without any more involvement from you.
For leads that aren't aware they need your solution: Text your leads with simple and easy information that helps them understand your solution. While they may not need your services currently, they may have a need in the future and you want them to think of you first.
For leads that understand they have a problem and are considering solutions: Send success use cases, webinar invites, articles with useful tips, how-to videos, and more.
For leads that are ready to move forward with a solution: While these will mostly be handled by your sales professionals, it doesn't hurt to continue sending content that will make them excited to work with you such as how great your customer service is, case studies from happy customers, testimonials, reviews, etc.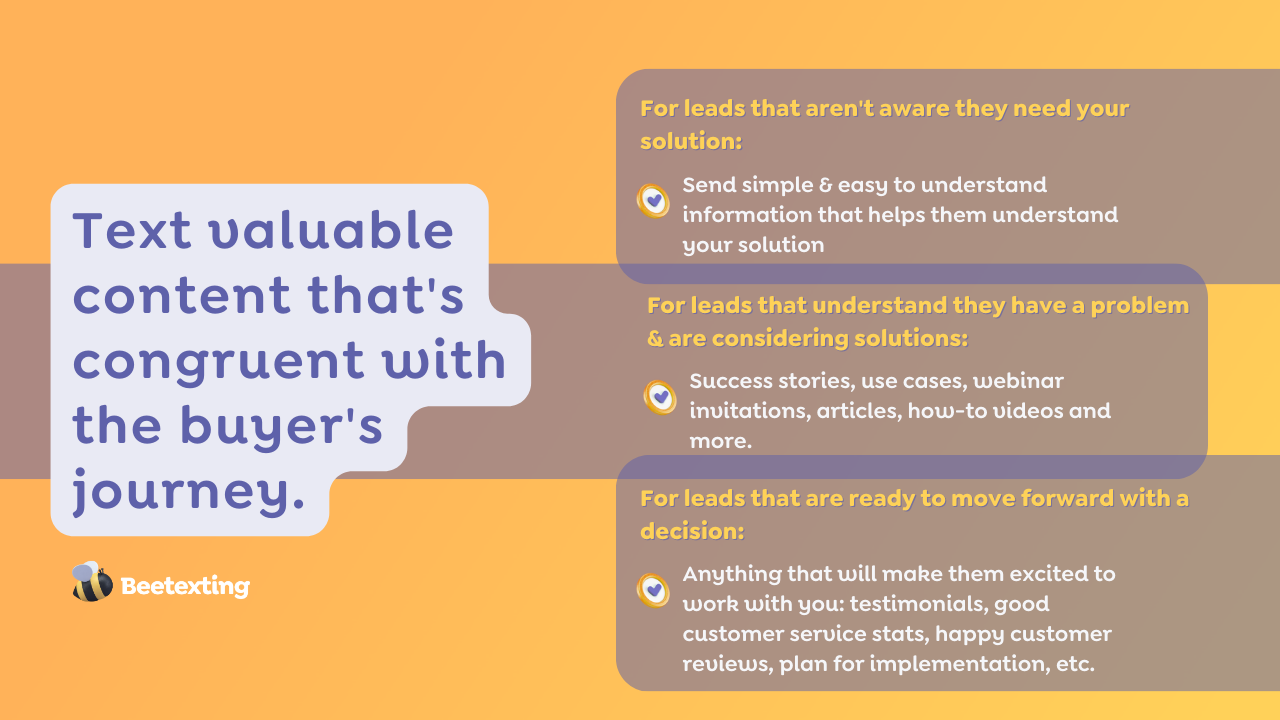 The Painful Reality of Long Sales Cycles
Sales professionals are always looking for ways to shorten sales cycles, but some industries just have longer sales cycles and you have to figure out ways to create a successful sales engine that includes long sales cycles.
A consistent pain point is lead management. No one has time to nurture hundreds or thousands of cold leads each week. You spend the majority of your time with the leads that show the most promise and momentum.
Focusing your attention on promising leads seems like a great strategy, but without continually nurturing colder leads along the way you find yourself with inconsistent revenue and unmet sales goals. You need help getting it all done in the most efficient way possible.
This is where marketing automations become really important.
Implementing SMS Marketing Automations
Automation allows you the freedom to focus on the hottest leads without losing momentum with colder leads. SMS automations nurture leads for you, warming and educating them – slowly turning them into the next leads you focus your time on.
A successful sales engine should have a consistent volume of cold leads entering the funnel and a consistent number of new customers funneling through.
Take a look at how automations are created with Beetexting:
Ready... Set... Automate!
Long sales cycles don't have to be frustrating - with an SMS CRM and SMS Marketing Automations you can create a highly effective sales engine, helping your sales professionals focus on the hottest leads with help from automations to keep cold and warm leads moving through the funnel.