3
min read
Efficiency in Motion: How SMS is Revolutionizing Corporate Relocation Processes

When companies bring in a new employee or move an existing one, the last thing they want is for that person to stress about all the logistics of the move. That's where hiring a corporate relocation company is a no-brainer!
But the competition is steep - that's why the best corporate relocation services refuse to compromise on communication.  A strong corporate relocation service relies on meticulous orchestration to understand the needs of its clients, collect information, and provide timely updates throughout the entire process. Today, that means using an advanced text messaging service to orchestrate the entire affair without missing a signal note! 
Bridging Communication Gaps with Team SMS Features

With less housing available than at any point in the 21st century, more and more executive professionals are looking to their employers to provide them with bespoke relocation services capable of managing any work-related moves.  That means corporate relocation services teams are busier than ever - managing influential clients who demand the best in customer service. This puts most relocation teams in a bind, torn between the competing needs of disparate clients. Fortunately, some relocation teams are relying on seamless team texting features to easily slip in and out of conversations with clients who need answers about moving dates, locations, and amenity requests.
The shared inbox feature is powerful, giving each team member access to previous conversations, any previously collected forms, notes on the customer, and best of all, the confidence to know any project they start can easily be handed off to the next team member should another emergency arrive. The customer's experience is protected as well, since conversations appear exactly the same on their side. Relocation teams in growth mode should invest in their team texting capabilities now so that they have the means to continue supporting more clients, building team synergy, and ensuring high quality customer support around the clock! 
The power of automated texting for Corporate Relocations
The relocation landscape demands greater adaptability than ever before. And while the shared inboxes can certainly help corporate relocation providers stay nimble, automation in SMS texting is just one more way to stay ahead of the competition. Traditional communicative routes like email and calling stumble when faced with the brisk pace of most moves. Unable to keep up with the fervent rhythm of the changes that can occur during a move, email could lead to huge gaps in information gathering. Phone calls could also pose a problem since busy executives may not have time to play phone tag with a service provider meant to create peace of mind, not additional headaches. By contrast, advancements in SMS messaging platforms create the perfect ecosystem to collect important details quickly via automated questions sent via the texting application. 

What's more, by relying on advanced scheduling, corporate relocation services can provide important updates about the client's move, and even set up reminders for things like pickup details, their new address, or even personalize the timing of messages to suit the needs of the client.  
Embracing the capabilities of a sophisticated SMS solution for business increases the opportunities for corporate relocation service providers. By crafting a communication plan that leverages the power of new messaging technology, corporate movers can transcend the role of facilitators, and become partners to their customers. 
Ready to set up

an SMS

environment that meets the

strictest business texting standards?

 



Download: Business Texting Compliance Field Guide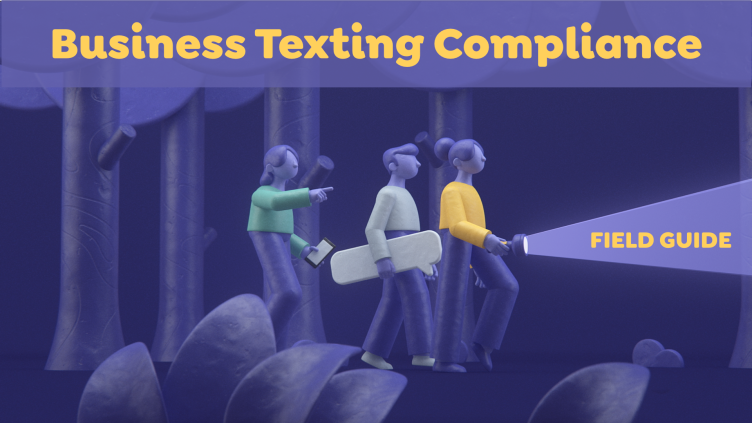 Understand TCR and how it works
What opt in/opt out automations you need to avoid fines.
Frequently used terms and what they mean